Something strange happened at the Nurburgring today involving a 9ff GTurbo1000. BridgeToGantry reports that as the owner travelled along the 1.5 mile Döttinger hohe straight, hitting speeds between 340 and 350km/h, the spoiler collapsed under the load pressure! Luckily, the owner, Knut Knuge, was able to stop as the wing simply folded in towards the bodywork. It demonstrates the forces involved in high speed racing though!
The car itself is heavily modified. It features a total output of 1,000hp produced at 7,500rpm and 1,000Nm at 5,200rpm. There's so many changes on the car that listing them seems a little unnecessary! Instead, we'll simply tell you that it features strengthened 9ff aluminium forged pistons, two watercooled Garrett GT35100R turbocharger's running 1,6 bar boost from 4,600 up to 8,200rpm and a 9ff exhaust system.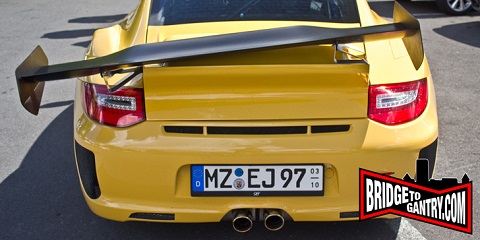 We think the spoiler is steel, according to BridgeToGantry, it measured 3.8mm in depth. Just to add some clarity, it's very rare that a race-oriented car hits 350km/h. This is just a freak occurrence that will no doubt be addressed by 9ff! Head over to BridgeToGantry for the full story.