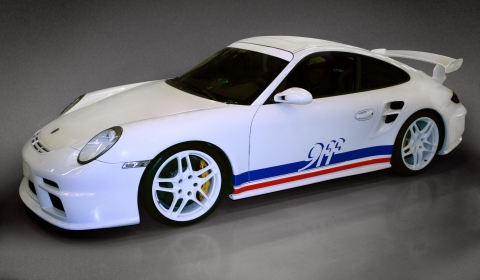 German tuner 9ff has refreshed their 9ff GTurbo program. The basis for this kit are the new Porsche 997 GT3 and 997 GT3 RS, producing stock 435hp in the 997 GT3 and 450hp in case of the 997 GT3 RS. 9ff has included a Bi-Turbo conversion to the engine. The result is a maximum power increase up to 1000hp.
A total of three stages are available; 9ff GTurbo750 – 750hp / 850Nm, 9ff GTurbo850 – 850hp / 910Nm, 9ff GTurbo1000 – 1000hp / 940Nm. The performance data of the two most powerful kits are 0-100km/h in 3,0 sec (GTurbo850) and 2,9 sec (GTurbo1000), 0-200km/h in 8,9 sec. and 8,2 sec., and 0-300km/h in 18,7 sec. and 16,5 sec. Top speed of each one is a maximum of 392km/h.
Adaptations were carried out regarding the body kit. For a better cooling effect of the intercooler, the rear fenders are equipped with air intakes. 9ff put air outlets in the front fender in order to reduce the pressure in the wheel wells at higher speeds. Next to these enhancements there is a new aerodynamics kit in 9ff GTurbo design. The kit consists of a front apron with LED indicators, side skirts and a rear apron. The rear apron is available in two variations. One for the middle exhaust system of the GT3, GT3RS and 9ff Speed9. The second version is available for left/right exhaust systems on all other 997 models.
Another adding to the line-up is the new light alloy wheel in five-double spokes design. The 9ff GTurbo design rims come in the dimension 8,5×19 inch and 11×19 inch. As an option 9ff offers the rims with a central locking system.
The price of the aerodynamic kit is €8.900 excluding tax, mounting and painting. The set of rims swaps owner for €4.980. The central locking version cost 970 euros more than the standard set. 9ff didn't support us with any prices regarding the engine upgrade. For more information please contact 9ff.