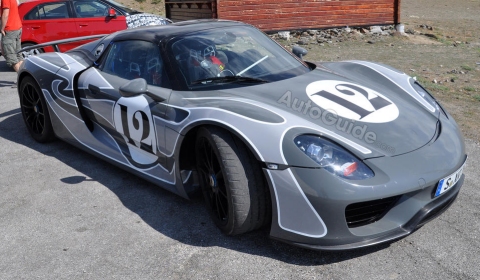 Another day, another set of spyshots showing the third Porsche 918 Spyder test mule dressed in a hippie livery and its interior setup. The new 918 Spyder is Porsche's upcoming supercar and this is the first time we can show you this particular test mule up close.
Yesterday, we showed you a video of three test mules driving on a highway near Valencia. In the video you saw the black/white 918 Spyder and the 918 Spyder in Martini livery. The third car in the video is this Martini Hippie supercar, which accidently also revealed its interior.
The photographer spotted the car somewhere in Spain on a mountain pass in the Sierra Nevada. On the pictures, you can clearly see the top-mounted exhausts and the interior featuring a center console resembling the setup of the Carrera GT, but without a gear level. Instead they fitted a massive vertical navigation screen – like the MP4-12C – and the controls for the multimedia system. Next to the screen you will see a lever controlling the drive, parking or reverse setting.
The futuristic cluster in front of the driver consists of three parts and includes a tachometer going up to 9,000 revs and the indication of the battery charge. The steering wheel is a standard Porsche wheel with paddle shifters. The cabin is finished off with a lot of carbon fiber parts and Porsche carbon fiber sports seats with Porsche 918 Spyder embroided in the head rests.
The 918 Spyder will be powered by a petrol powered 4.6 liter V8 and two independent electric motors – one on the front axle and one in the drive line, acting on the rear wheels. The total amount of power will be 762 horsepower and 750Nm of torque. Fuel economy is estimated at three litres per 100 kilometers which translates to 78mpg.
The German carmaker plans to build a total of 918 units of the 918 Spyder, from which an estimated 20 percent will be delivered with a Race Track package. Production of the hybrid sports car will commence the 18th of September 2013 (9/18), pricing will start at € 645,000, subject to taxes and country-specific charges.
[Via Autoguide.com]