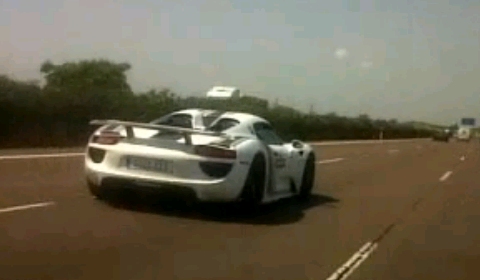 The Porsche 918 Spyder is currently running through its testing phase. A total of three test mules are being used across the world to test the new German supercar.
The test mules were spotted on a highway near Valencia, Spain last week. In the footage below you will see three 918 Spyders driving by the lens of a cameraphone. Each of the cars has a different livery. Rumours suggest that the car with the Martini Livery is the test mule for the Track Package.
For a premium price, Porsche will fit the 918 with the optional Race Track package which includes a stripped-out interior, an unpainted exterior, and likely some technical tweaks. The Race Track package also sheds some weight, resulting in a total weight of "less than 1,700kg".
The 918 Spyder will be powered by a petrol powered 4.6 liter V8 and two independent electric motors – one on the front axle and one in the drive line, acting on the rear wheels. The total amount of power will be 762 horsepower and 750Nm of torque. Fuel economy is estimated at three litres per 100 kilometers which translates to 78mpg.
The German carmaker plans to build a total of 918 units of the 918 Spyder, from which an estimated 20 percent will be delivered with the Race Track package. Production of the hybrid sports car will commence the 18th of September 2013 (9/18), pricing will start at € 645,000, subject to taxes and country-specific charges.
[Via TheSportCarGuys]