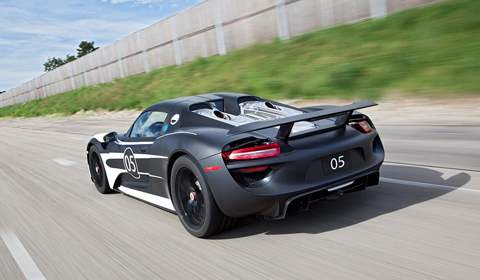 Porsche has revealed that the Porsche 918 Spyder development has entered a new stage with the initial prototypes completed. Porsche engineers maintain that the 918 Spyder will go into production at the end of September 2013 as planned, with customers getting the first cars before the end of 2013. The pictures reveal that the prototypes have been given a historical Porsche 917 racing livery.
The Porsche 918 Spyder will get a combustion engine and two independent electric motors – one on the front axle and one in the drive line, acting on the rear wheels. The engineering and design focus is centered on minimal fuel consumption and maximum performance. We are told that Porsche engineers have been impressed so far with the testing results.
The first is a 4.6 liter V8 originally fitted to the three-time ALMS LMP2 Championship-winning RS Spyder. This will feature 570hp on its own and the exhaust outlets will exit in the middle of the engine block to reduce engine compartment heat. This will be coupled to an 80kW lithium-ion electric motor powering the two front wheels. In total, this means 770hp, with 553 pound-feet of torque available across the rev range. There is a second electric engine at the back.
0-100km/h times will be less than three seconds, 0-200km/h times in less than nine seconds and a top speed of 325km/h. You should be able to hit 145km/h without needing to use the 918 Spyder's petrol engine. Powering up the power pack will take around six hours on a 110 volt power supply, a Porsche supplied quick charger will see that cut to just two hours though. The development of an even more advanced system that could do the job in just 20 minutes too!
The chassis, as you would expect, is a mix of carbon fiber and aluminum. The same style of construction we saw in the Carrera GT. Whereas that car took five days to build one shell, Porsche can now build five 918 shells in just one day! The Porsche 918 Spyder should weigh 1,670kg with 80 percent of that weight below the central line. Expect plenty of grip.
The Porsche 918 Spyder will get three different modes. The first is "E-Power", an all-electric setting, then we get the standard "Hybrid" mode which focuses on efficiency, finally there is the "Sport Hybrid" which pushes the balance in favour of performance! Fuel economy is estimated at three litres per 100 kilometres which translates to 78mpg.
In terms of design, it is expected that Porsche will fit a removable two-piece targa roof as they did with the Porsche Carrera GT.