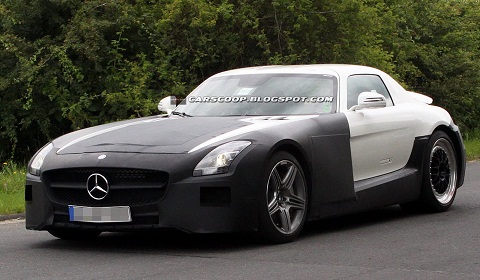 The Mercedes-Benz SLS AMG Black Series mules have been back out testing recently. There's still no official information about when we can expect the official launch of AMG's top of the range models. It should feature more aerodynamic enhancements, more power and a higher price tag. It seems likely to get a 2013 release date.
The German supercar will be powered by revised 6.2 liter V8 engine which provides 650 horsepower, exceeding the 100hp per liter. The top speed is rumored to be 322km/h. Besides the engine, the bodywork and aerodynamics of the SLS AMG will be upgraded as well. The SLS AMG Black Series will see a new front bumper, side skirts, widened wheel arches, air inlet in the hood, and other modifications.
For more pictures please visit CarScoop.