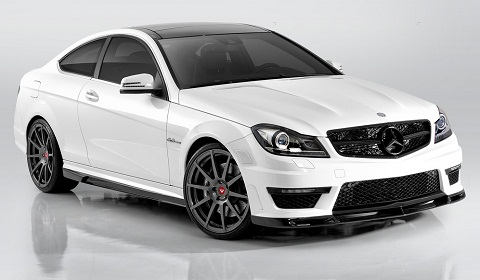 We've seen the Vorsteiner Mercedes-Benz C63 AMG Coupe before. Back when it was first revealed, all we got to see were two renders. Recently Vorsteiner released a new set of photos showing the fully finished demonstration model, complete with carbon fiber parts. The Coupe kit is more comprehensive than the C63 Saloon kit Vorsteiner announced back in 2010. It should be available by the summer.
Vorsteiner fitted a new front add-on spoiler, front vent louver covers, a front hood grill replacement, a fender grill cover, side skirt panels, a boot lid replacement with integrated spoiler and a vented rear diffuser. It's a reasonably comprehensive kit that subtly changes the car's design but does not go too far. All parts are carbon fiber.
The Vorsteiner C63 AMG Coupe also features a set of 10 spoke VS-160 wheels. For full details read our earlier post!