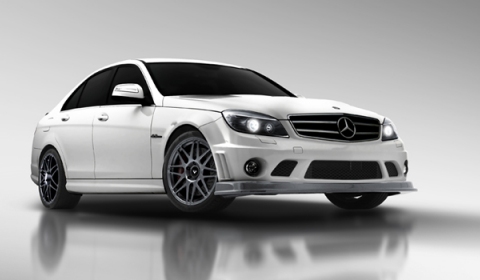 Vorsteiner has released a small body kit program for the C63 AMG. The program includes a front add-on spoiler, rear diffuser and rear spoiler.
The C63 AMG sport front add-on spoiler can be fitted to the factory AMG bumpers. The spoiler is made of light weight carbon fiber and has a body color paint while adding downforce to the front end of the vehicle. To further enhance the styling and downforce of the rear end of the vehicle Vorsteiner developed a lightweight carbon fiber aero diffuser which bolts onto the factory AMG rear bumpers. The rear spoiler complements the same setup of the front add-on spoiler. The decklid spoiler increases also rear end downforce.
All parts are made of Vorsteiner's Carbon Fiber Honeycomb Matrix (CFHM) structure giving them better stiffness, strength and durability compared to traditional hand laid carbon fiber and fiberglass materials.
The parts are available via Vorsteiner and the official website.