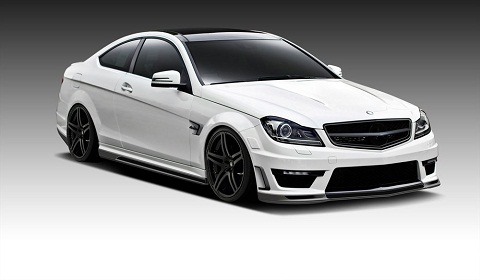 Vorsteiner announced a new tuning kit for the Mercedes-Benz C63 AMG Coupe today. It focuses on a range of cosmetic upgrades giving the powerful coupe an equally powerful look. The Coupe kit is more comprehensive than the C63 Saloon kit Vorsteiner announced back in 2010. It should be available by the summer.
Vorsteiner will fit a front add-on spoiler, front vent louver covers, a front hood grill replacement, a fender grill cover, side skirt panels, a boot Lid replacement with integrated spoiler and a vented rear diffuser. A very comprehensive kit that subtly changes the car's design but does not go too far. All the parts will be produced in carbon fiber.
Vorsteiner will also fit 19 or 20 inch forged aluminium wheels, a stainless steel or titanium sports exhaust system and custom Vorsteiner embroidered floor mats and trunk mats with piping color options. It looks promising at the moment.
Other than the above details, there isn't much more to tell! Let us know what you think in the comments box below.