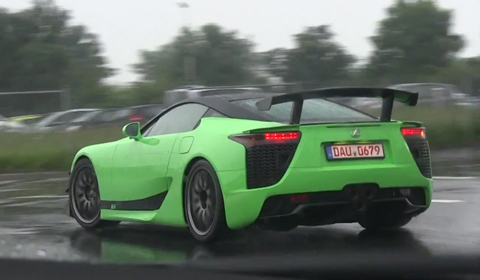 It looks like Lexus is preparing a surprise. Last week a remarkable and unknown Lexus LFA was spotted on the Nurburgring, but now a second mysterious LFA has made its appearance around the famous circuit in Germany.
The bright green Lexus LFA spotted here bears the markings 'AD-B' along the side. But it doesn't come with the extra air intake on its hood, subtle boot-lid spoilers, four exhaust pipes and massive diffuser featured on the more hardcore looking turquoise LFA bearing 'AD-A', which was previously caught testing on the Ring. Although the hood of the green Lexus isn't visible, the roof appears to be left unpainted ‒ just as the LFA AD-A ‒ in order to expose the carbon fiber weave.
Currently there is no information regarding both LFA's, so it will be interesting to see what the future will bring. Will it be the LFA Tokyo Edition? Or is this car a test mule used for the development of the LFA II hypercar? Feel free to speculate and share your thoughts in the comments below.
[Via Autoguide and Touriclips]