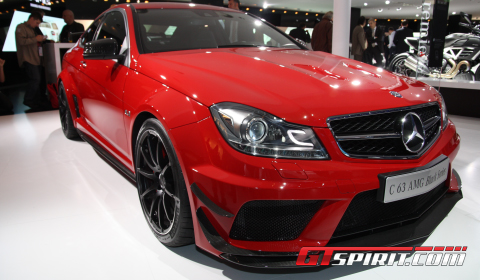 The Mercedes-Benz C63 AMG Black Series Coupe is officially sold out. The German comny confirmed this to Dutch magazine Autovisie. A total of 800 pieces will be build and shipped around the world. This is a higher number than they initially intended.
At the official release Mercedes-Benz only planned to build 650 pieces, but due to high interest, they decided to increase the amount with 150 cars. Overall demand for the model is much higher than 800.
The main reason not building more is the fact that producing a Black Series takes a lot more time than a regular C-Class. Especially the fitment of the carbon fiber rear spoiler is a time consuming process. As the model rolls off the same production line as the 'normal' models this offers too much delay. Keeping the numbers down will make sure that other models won't be delayed.
The C63 AMG Coupé Black Series is based on the Mercedes C-Coupé (C204) and designed for enthusiasts who are passionate about sports cars which are big on horsepower.
Besides the spectacular and wide bodied styling the Black Series offers a 6.3 liter V8 engine producing 517hp at 6,800rpm and 620Nm at 5,000rpm. The ultimate AMG accelerates from zero to 100km/h in 4.2 seconds. For stopping power, massive brakes discs were installed, measuring 390mm at the front with six-piston calipers, and 360mm discs at the rear with four-piston calipers.