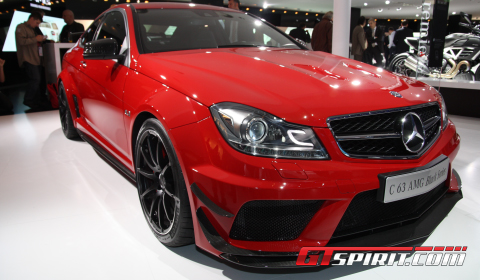 Mercedes-Benz has officially presented the C63 AMG Coupe Black Series at the 2011 IAA Frankfurt Motor Show. The Germans previously released official information about the latest Black Series and now the car has made its public appearance.
The C63 AMG Coupé Black Series is based on the Mercedes C-Coupé (C204) and designed for enthusiasts who are passionate about sports cars which are big on horsepower. This philosophy embodies the Black Series (BS) strategy, which began back in 2006 with the SLK55 AMG Black Series. Together with the CLK63 AMG Black Series and the SL65 AMG Black Series the new C63 AMG Black Series is the fourth member of the Black Series family.
Besides the spectacular and wide bodied styling the Black Series offers a 6.3 liter V8 engine producing 517hp at 6,800rpm and 620Nm at 5,000 rpm. The ultimate AMG accelerates from zero to 100km/h in 4.2 seconds. For stopping power, massive brakes discs were installed, measuring 390mm at the front with six-piston calipers, and 360mm discs at the rear with four-piston calipers.
The handling is improved using a limited slip differential at the rear axle, wider tracks up 40mm at the front and 79mm at the rear and a stiffer anti-roll bars. The sports car has three stages of ESP stability control, one of which allows the system to be completely switched off.
The subsidiary of the Mercedes-Benz specializing in high-performance offers two packages for the C63 AMG Coupé Black Series. The AMG Track Package is available as an option to enhance driving dynamics even further. It boasts sports tyres and active rear-axle transmission cooling, plus the AMG Aerodynamics package including flics, a functionally tuned front splitter and an adjustable carbon-fibre rear aerofoil.
The latest addition to the Black Series stable will go on sale next spring.