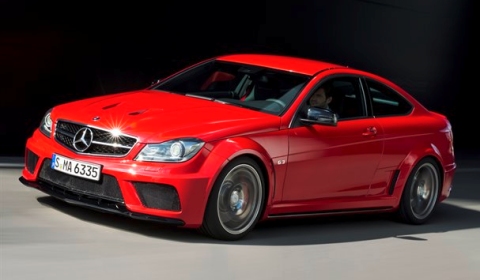 The German car maker Mercedes-Benz has finally released the official information about the new Mercedes-Benz C63 AMG Coupe Black Series (C204). The ultimate AMG sports car made an early debut last night and we are here to share the news with you.
The Black Series package is a combination of the most powerful C-Class ever produced, a track-focued chassis and aggressive styling. Under the hood, the C63 AMG Coupe Black Series offers a 6.3 liter V8 engine producing 517hp at 6,800rpm and 620Nm. The power plant has forged pistons, conrods, crankshaft, a new engine control unit and a fifty percent bigger oil cooler. The engine is linked to a seven-speed AMG Speedshift transmission with four ESP control settings. The Sport Plus and Manual modes allow shifts in 100 milliseconds. 0-100km/h is reached in 4.2 seconds.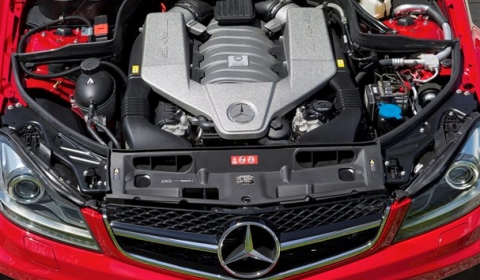 The brake kit includes 390mm front discs with six-piston calipers, and 360mm discs at the rear with four-piston calipers. The handling is improved using a limited slip differential at the rear axle, wider tracks up 40mm at the front and 79mm at the rear and a stiffer anti-roll bars. The sports car has three stages of ESP stability control, one of which allows the system to be completely switched off.
The interior offers two racing seats, an optional rear-bench with individual seats and red-trimmed seatbelts. It can be ordered with an optional Track Package and the AMG Aerodynamic Package. The Track Package features a track-baised Dunlop rubber and a differential cooler sited in the rear bumper apron. Carbon fiber aerodynamic add-ons for the front bumper and a fixed carbon rear spoiler are part of the Aerodynamic Package.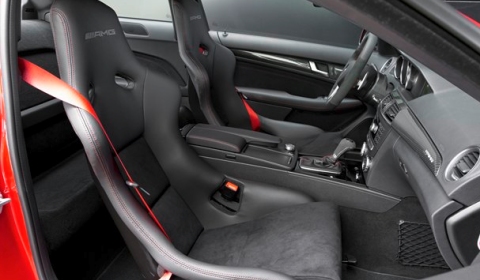 The expected price tag of the 2012 Mercedes-Benz C63 AMG Coupe Black Series is around £ 100,000 (€ 113,500 or $ 163,000). Sale will start next spring, with an official debut at the IAA 2011 in Frankfurt.