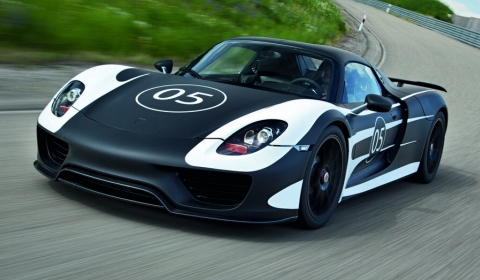 The Porsche 918 Spyder is heading to the Goodwood Festival of Speed 2012, which will take place from Friday 29 June to Sunday 1 July with the Moving Motor Show taking place on the 28th June.
Several different sources reported to GTspirit.com that they have received invitations to see Porsche's new supercar live at the annual car show. We expect that Porsche will show a model based on the current test mules and close to the production model. It is unknown if the viewing will happen behind close doors.
The 918 Spyder will go into production at the end of September 2013 as planned, with customers getting the first cars before the end of 2013. The Porsche 918 Spyder will get a combustion engine and two independent electric motors – one on the front axle and one in the drive line, acting on the rear wheels. The engineering and design focus is centered on minimal fuel consumption and maximum performance. We are told that Porsche engineers have been impressed so far with the testing results.
The Porsche 918 Spyder will get three different modes. The first is "E-Power", an all-electric setting, then we get the standard "Hybrid" mode which focuses on efficiency, finally there is the "Sport Hybrid" which pushes the balance in favour of performance! Fuel economy is estimated at three litres per 100 kilometres which translates to 78mpg.
In terms of design, it is expected that Porsche will fit a removable two-piece targa roof as they did with the Porsche Carrera GT. For more information on the new supercar from Porsche check out our post from last week.