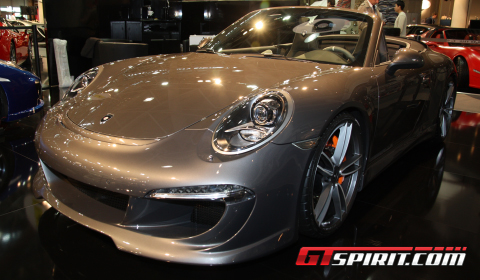 Gemballa continues to build on its heritage and experience by modifying the Porsche 911. At Top Marques Monaco 2012 the German aftermarket specialist unveiled their aerodynamic kit for the Porsche 911 (991) Convertible.
The open version of the seventh generation Porsche 911 received a stylish carbon fiber aerodynamic kit comprising front and rear spoilers and side skirts. A similar package for the coupe version of the Porsche 911 was unveiled at the Geneva Motor Show.
A unique six-pipe exhaust system which will help the standard 340hp 3.4 liter and 400hp 3.8 liter flat-six engines to breathe more easily and improves the sound. To complete the package the German tuning house has fitted 21 inch ultra-light forged alloy wheels, which weigh less than the standard wheels of the Porsche.
This is just the beginning for Gembella, the GT package for the latest member of the Porsche 911 family will lay the foundation for an all-new Avalanche.