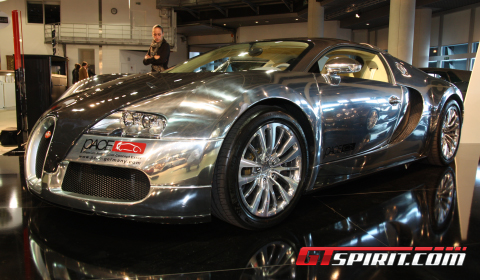 What's a supercar show without the pinnacle of automotive engineering? Of course there is a Bugatti Veyron being showcased at Top Marques 2012. In fact, this is model number one of just five Pur Sangs ever built and our friends ata PACE Insiders brought the car to the event.
The Bugatti Veyron Pur Sang is finished in its pure material configuration – meaning no colour coating to show the car's true essentials: carbon fiber and polished aluminium. This is also reflected in the car's name, Pur Sang means 'pure-blooded' or 'thoroughbred'.
As most people already know, the technical specifications of the Pur Sang is almost identical to the standard Veyron. Both models are powered by a 8.0 liter, quad-turbocharged W16 engine which produces 1,001hp and generates 1,250Nm of torque. But the Pur Sang weighs 1,888kg, which is 100kg lighter than a normal Veyron.
Production of the Veryon Pur Sang was limited to five, and this particular model at Top Marques was the first of this limited run and is for sale via PACE Germany. This is also the only Pur Sang with a light interior, making it even more exclusive and desirable.
If you interested in the hypercar, please contact GTspirit or PACE Germany for more information.