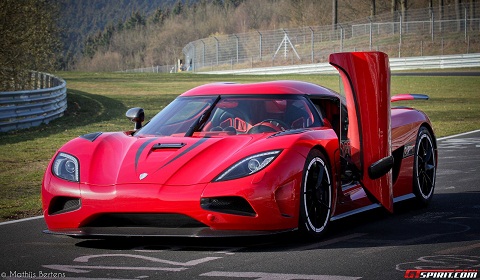 A Koenigsegg Agera R reached a new record top speed of 402 km/h on the Nurburgring Nordschleife this week. If you are a frequent reader of our front page, you surely did not miss our coverage of the 2012 Gran Turismo Nurburgring event over the past few days. One of the participants of the event at the Green Hell was the record-winning red Koenigsegg Agera R. Normally the main straight of the Nurburgring Nordschleife is closed, but on a private track day organizers are free to open the main straight so their participants can enjoy full lap after lap of the famous 21 kilometer long circuit without having to come in for a new lap.
The hypercar achieved record-breaking speeds when it did an impressive 401.6km/h at the Döttinger Höhe straight, before braking before the bridge at Tiergarten. According to the owner, Bård Eker there were no problems with stability under the extreme speeds. The tarmac was a little bumpy while braking so it was quite exciting before the left turn.
Gran Turismo Nurburgring was not only visited by two Koenigseggs, they also had the pleasure to see a Pagani Zonda both on and off the track. Some 120 super cars attended, with the most popular being Porsche GT3 RS, Ferrari 458 and Lamborghini Gallardo.
For more pictures of the event check our complete Gran Turismo Nurburgring coverage.