The Nürburgring is arguably one of the most impressive tracks in the worlds. The famous German circuit located in the Eifel mountains, is known for its motorsports history, length and challenge it provides. Therefore the Nürburgring a major attraction for petrol heads from all over the world.
Besides being a driving enthusiasts' Valhalla, the Ring serves nowadays as a demanding proving ground for car manufacturers and media. Many of them use the 22,8km long Nordschleife as a standard to publish their lap times achieved with their cars and sometimes even unveil a special Nürburgring Edition. This might upset Top Gear host James May, who has regularly expressed his dissatisfaction with the influence of the track when it's used by car makers to develop new models. But the huge impact of the Nürburgring inspires other people.
Bruton Smith, the CEO of Speedway Motorsports, has proposed to build an exact replica of the German circuit in Nevada. In an interview with SiriusXM Sports he talked about possibly building a duplicate of the Nürburgring outside of Las Vegas. The 84-year-old Smith has been talking to the Governor and the Bureau of Land Management (BLM), which administers over 75% of the land in Nevada. Smith wants the BLM to donate 8,000 acres (32 km²) of land for the project.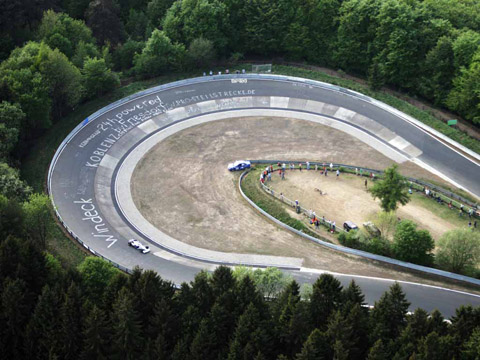 If this project gets the green light from the authorities, Smith will ‒ with some help of engineers in Germany ‒ create an exact replica of the Nürburgring. He also said this track wouldn't be used for racing, but for only testing. A major benefit of this proposed circuit is the fact is could be used 12 months a year, which according to Smith is not possible in Germany. The Nevada Ring could be used by car manufacturers as well as individuals.
This idea might seem a little bit far stretched, but let's not forget this is Las Vegas ‒ a city filled with replicas of Paris, Venice, New York and more. But the myth of the Nürburgring in Germany is not only created by its history, but also by the regions sometimes challenging weather. While Las Vegas enjoys abundant sunshine year-round, this can't be said about the original track in Germany.
What do you think about the proposal to build a copy of the Nürburgring near Las Vegas? Feel free to share your thoughts in the comments below.
Video: Derek Bell explains and drives the Porsche 956 around the Nurburgring.

[via Jalopnik and SiriusXM Sports]