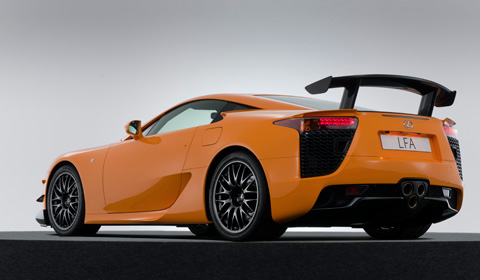 Only day after the finish of the 39th ADAC Nurburgring 24 Hours we spotted this clip on YouTube showing Team Manager Akira Iida taking a Lexus LFA Nürburgring Edition around the Nordschleife in a lap time of 7:22.85. With this time the LFA Nürburgring Edition enters the top 10 of fastest production vehicles lapping the 20km long Green Hell.
Limited to only 50 pieces the Lexus LFA Nürburgring Edition includes enhanced aerodynamic performance consisting of improved high speed downforce, a larger front spoiler, fin-type side spoilers, canard fin, and a fixed rear wing. The maximum powerwas increased by 10hp to over 570hp to ensure that the LFA maintains its acceleration time of 0-100km/h in just 3.7 seconds and a maximum speed of 325km/h. The maximum torque is 480Nm at 7,000rpm.
The Lexus LFA 'Ring Edition' will be available only in matte black, black, white or orange. For the interior are three colour schemes available: black and red, black and purple or all black. Both on the outside and inside Lexus used loads of additional carbon fiber parts.
This video was being shown at the Nürburgring 24h race alongside the LFA Nürburgring Edition display.
[Via LexusEnthusiast]