Frequent readers of the GTspirit front page may remember the earlier snapshots of an Acura NSX concept made at Central Park in New York. The pictures were made during the shooting of the Avengers film, which is going to be released in the Spring (opening 4th of May in 3D).
Acura has been in the Marvel Comics Universe films as the official car of their fictional law enforcement agency called S.H.I.E.L.D. That relationship continues for The Avengers. The concept roadster used in the movie is an one-off, a fictional car that was made just for the movie and it will not be produced.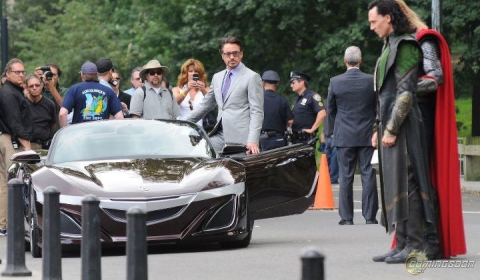 At the 2012 Detroit Motor Show, Acura released the brand new NSX Concept, a production version of the Acura we saw Robert Downey, Jr driving on the streets of New York.
The next-generation NSX will feature Acura's new Sport Hybrid SH-AWD technology, developed by Honda R&D Americas and manufactured in Ohio. This makes use of a unique twin electric motor drive unit with a bilateral torque adjustable control system. The mid-engined supercar has similar proportions as the Audi R8. It has a sleek, clean and uncluttered design.
Following this information we can now share with you the official information concerning the Tony Stark's $ 9 million sports car from The Avengers. For those of you unfamiliar with the movie, Robert Downey, Jr plays the role of Tony Stark aka Iron Man in The Avengers film.
At the Sundance Film Festival, Colider.com stumbled upon Tony Stark's new Acura displayed behind a closed-door setup at the festival. According the movie blog, the vehicle comes with some pretty fantastic features.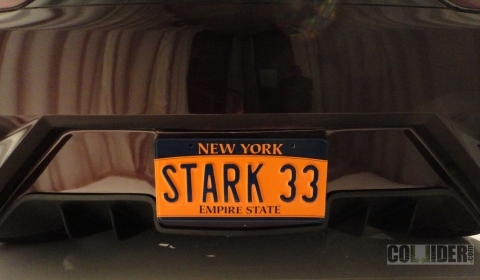 The 2012 Stark Industries Super Car comes fully equipped with a palm-scan ID steering wheel, enviro-clone projected hologram of surroundings, bullet- and foreign element-proof clear coat and metal skin, self-detonating recon drone, night-vision HUD windshield, and a Palladium-powered 80,000 TOHC 32-valve engine with titanium-forged block and nitrous fuel-injection system.
You can check out the full list of options via the gallery below. It also includes close-up shots of the interior, exterior and wheels.