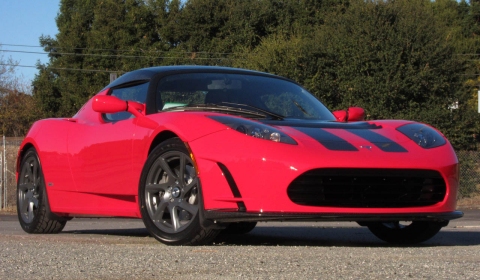 US car maker Tesla has revealed the final hoorah of the Roadster; the Tesla Roadster Final Edition. The model is exclusive to the North American market, with production to be limited to 15 cars. However, similar models could show up for the Asian and European markets over the upcoming months.
All Final Editions are finished in special Sporting Atomic Red paint with two racy stripes going on top. Also part of the exterior pack is a set of anthracite aluminum alloys. The electric sports car is based on the Tesla Roadster Sport 2.5 model we drove in 2010.
Tesla is winding down its Roadster production so it can focus on the Model S, an all-electric sedan that will go on sale in 2012. The next generation Roadster will be launched sometime in 2014. This model will no longer be based on the Lotus Elise. Instead it will be based on a 'third-generation platform'.