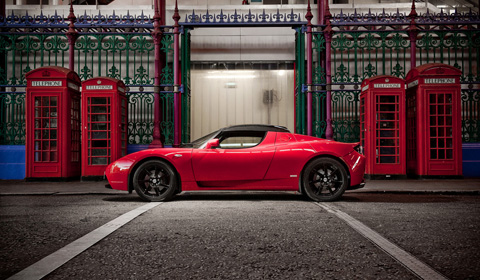 American car maker Tesla is unfolding its strategy for the coming years. The upcoming Model S is the first model of a wide array of new cars, including an all-new Roadster, a crossover and a rival for the BMW 3-Series.
The Californian carmaker has already stopped taking orders for the all-electric Roadster in August and production of the zero-emission sports car is scheduled to stop in January 2012. Tesla is winding down its Roadster production so it can focus on the Model S, an all-electric sedan that will go on sale in 2012.
The Model S, which should provide an electric alternative for the BMW 5-Series, will spawn a crossover Model X due in early 2013. Around the same time a luxurious convertible model will hit the markets. Once the production of these models is well underway, Tesla will launch the second-generation Roadster.
Tesla CEO Elon Musk has told Autocar that the next generation Roadster will be launched sometime in 2014. This model will no longer be based on the Lotus Elise. Instead it will be based on a 'third-generation platform'. Elon Musk explains:
This platform will spawn a range of cars in the next four to five years. It'll be a more mass-market platform for cars like a 3-series as well as the new Roadster. These cars will supplement the Model S range.