If you are a petrol-head and a daily follower of our site, you may have heard of Tesla Motors, a company based in Silicon Valley, which is selling a Lotus Elise-based Roadster; the world's first pure-electric production sports car and a combination of lightweight engineering; a massive set of batteries in the back, and one single electric engine propelling you forward. So does this mixture of futuristic travel prove that you do not have to go slow to go green? We had to find out!
Named after 19th- and early-20th-century electrical über-inventor Nikola Tesla the car was officially unveiled to the public on July 19, 2006, in Santa Monica, California. The first vehicle was delivered to Elon Musk, Tesla co-founder, chairman, and inventor of PayPal, in February of 2008. Over the past few years the vehicle has gone from being a concept to being part of a line-up with several production variants.
In July 2009, the 2010 model rolled of the production line. Simultaneously they came up with the Roadster Sport. The Sport version accelerates from 0-60mph in a quite literally electrifying 3.7 seconds, compared to 3.9 seconds for the standard Roadster. The Tesla Roadster Sport 2.5 is the latest addition to the line-up. In addition to the 2010 changes such as the upgraded interior with push-button gear control, exterior carbon fiber refinements and a glove box wrapped in leather you also get a new front fascia, rear diffuser, improved seat comfort, sound dampening, and an optional large touch screen navigation system with back-up camera.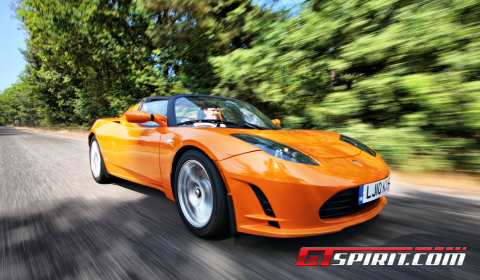 The small two-seater is assembled by Lotus in England, shipped to the States and then finished by Tesla Motors in San Carlos, California. The sports car is build up around a carbon fiber bodywork and an aluminum-chassis a few inches wider and longer than the Elise. In terms of build quality, our test car did not seem to befit a 2010-model with a € 99,000 price tag.
The total weight of the Tesla is 1250kg, 350kg more than a standard Elise. The power is provided via a 248hp (185kW), air-cooled three-phase, four-pole electric motor fed by 6831 lithium-ion cells resembling your daily laptop battery. The maximum torque is 380Nm, which is obtained at zero rpm and is almost constant up to 6,000rpm. This unique way of delivering the torque is common to any electric motor and one of the main differences with your every day petrol engine and it delivers a top speed of 201km/h (125mph).
The most important subject to many people when discussing an electric car is its range. Using only batteries and not being able to switch to a petrol engine in a hybrid setup means that the range is a vital part of the drive. The Roadster has the ability to travel up to 354km or 220 miles without having to be recharged as long as you are judicious in your driving. Something which will be rather difficult after you have experienced the first few meters of road inside the Tesla. If your right foot cannot resist the temptation of speed then 250km, or 155 miles, is possible, according to Tesla.
Using Tesla's High Power Connector recharging device, you are able to recharge the vehicle in 3.5 hours. For those that would like to use the power plug in their normal household it takes about 12 hours to full re-charge the vehicle. Within the vehicle there is a small touch screen, which you can use to program the amount of amps, 20 to 70 amps, it should draw from the wall. Tesla offers an optional 240-volt cord which pulls 32 amps and is about 20 feet long.
The main concern is the noise the car makes while being charged. The batteries in the back of the vehicle need the appropriate cooling, supported by cooling fans, which periodically switch on. Make sure it is parked indoors and not in front of your house at night or you might bother your neighbors with the noise. Secondly, we cannot imagine that parking the Tesla in front of your house will give any major problems if you live in a less populated area or your premises are large enough to accommodate a parking space. In highly populated areas like cities finding a spot near your house or apartment is one thing, finding a place to charge your Tesla is even harder. Cities around the world are providing more re-charging stations every single day, but it is not enough to immediately solve the problem that many electric car owners have, which is having their car parked close to their house whilst charging it.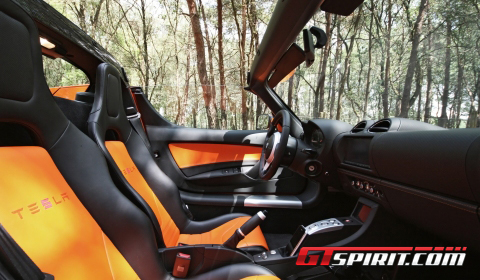 The Tesla's drive is a combination between the Lotus-based chassis, manual steering, tire noise and the sound of Luke Skywalker's Landspeeder. The car is not completely silent, although for those biking or crossing the street it is quite difficult to hear the Tesla approaching. You will probably be expecting an engine noise from the Elise-look-a-like, but that is not something you will find here. The staring faces and happy smiles of passersby are an immediate, and unexpected, response.
The handling is neutral and predictable, a bit bumpy, but softer than the Elise. Cornering means understeering and the additional weight of 6,831 laptop batteries in the back of your neck. The Roadster's weight distribution is more rear-biased than the Elise's and it is easily noticeable. The sports car lacks electric power steering, which is not fun when parking, but on the other hand it does not kill the fun at higher speeds.
Thrill is a feeling the Tesla mostly lacks. It is a great sports car for daily drives, a true sprinter in a straight line, but never a cornering masterpiece like its ancestor. The brakes are well-balanced and regenerative braking becomes applicable after a short drive. The motor switches itself to become a power generator, but it can slow the car so sharply that you have to watch behind you before providing additional breaking power.
Entering the vehicle means performing a circus act with your body. The removable canvas targa top provide a solution to this if the weather is nice, but not much use if there is a spot of rain. Releasing the roof is a simple and easy task. If needed a body-colored carbon fiber hardtop is available on the list of options. The interior itself is rather spartan. You do have leather seats, a leather steering wheel, air-conditioning and an Alpine touchscreen multimedia system with rear-view camera. On the newly designed transmission tunnel you will find the connection for your iPhone or iPod, the automatic drive controls, and a LCD display informing you about the battery charge, available range, car status, amount of petrol you have saved and additional charging settings. The menu has numerous options and drive characteristics to choose from to enable you to lengthen your range.
Overall you would expect the range to be the main killing factor here, but it is not however it plays a certain role in the way you drive the vehicle. Of course, you know your range and you know the capabilities of the vehicle. The biggest issue is the price and the package delivered. The standard base price is three times more expensive than a normal Elise. Of course, you have to look at the overall costs as well. It is cheap to run. The car is filled for only € 5 to € 10 giving it a range of about 300km. A similar petrol car would cost up to € 40 for a full tank at a range of about 500km. Secondly, some governments will support you buying it. Tax savings and additional fees are money savers when you choose the € 99,000 electric car. Especially when it comes to leasing, the savings start big time.
However, potential financial savings do not mitigate the downfalls of the vehicle. The Tesla Roadster Sport 2.5 left a bit of the drivability and thrilling speed behind, although it is damn quick. Something which its ancestor with a conventional engine has. It is more an entertaining plaything for daily commuting and to allow you to say that you are 'Going green'. Some of you will constantly focus yourself on saving battery consumption and lengthening your range. If that is what interests you then in the end you should leave some of its sports performance aside and concentrate on the environmental benefits and Earth-friendly engineering it addresses. After all, it is the first-ever mass-produced electric sports car and in that regard it has no competitors.