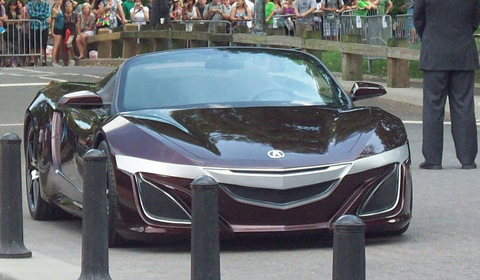 Acura is on the way back. For the Detroit Motor Show 2012 starting in January, the Japanese are planning the release of the long-awaited Acura NSX supercar concept, which has been confirmed for production by Honda CEO Takanobu Ito a few months ago. The Detroit release of the NSX Concept was rumoured, but not yet confirmed.
Motorauthority reports that the new version is expected to be styled quite similarly to the concept built by Acura for the upcoming movie The Avengers. Information suggests it will feature a hybrid-based SH-AWD (Super Handling All-Wheel Drive) system combined to a V6 engine, seven-speed dual clutch transmission, and triple-electric motor setup.
The body is expected to feature a mid-engine two-seater layout. The performance of th Acura will be on par with high output V8 sports cars currently available.