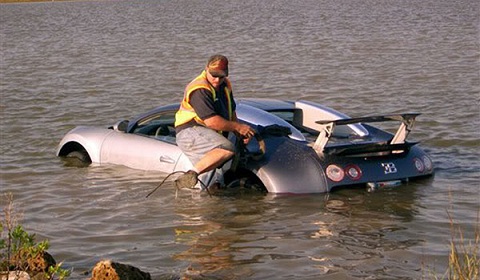 Remember Andy House, the man who was filmed driving his Bugatti Veyron into a Lagoon? It has been announced that a jury will get to decide he lied about an errant pelican, his explaination for the $ 2 million insurance claim.
Alledgedly, Andy House was provided with a $ 1 million loan by Lloyd Gillespie in 2009 to buy the 2006 Bugatti Veyron. He then obtained collector-vehicle insurance on the car from Philadelphia Indemnity Insurance Company and listed Gillespie as a loss payee. However, three weeks after taking delivery, the insurance company received the claim after the car was driven into the lake. This lead to claims that the accident was intentional. To make matters more complicated, House put over 1,200 miles on the Bugatti during the three weeks. In breach of his collectors insurance policy.
House told Philadelphia that he had swerved to avoid hitting a pelican while driving back from Galveston. He said he took his eyes off the road to pick up a dropped cellphone, then spotted the bird and drove off the road. Further to this, it is alledged that Andy House left the vehicle running for over fifteen minutes while it was submerged until it died on its own causing unnecessary damage to the vehicle's engine. This allegation is defended by Andy House's claims that he was being bitten by mosquitoes around the vehicle.
When the man who made the YouTube video was interviewed, he claimed that he didn't see a pelican and didn't notice House drop his cellphone. Investigations found no skid marks to indicated braking at the scene of the accident. A confidential informant is also said to have come forward claiming that Mr. House offered to pay him money to steal the car and burn it so that he could obtain the insurance money.
Mr. House and Mr. Gillespie are both named on the court documents as defendants. An attempt to settle the case early by summary judgment was rejected by U.S. Magistrate Judge John Froeschner last week.
You can have a look at the original complaint filed in June last year here. We'll keep you updated on the outcome of the case.
[Via CourtHouseNews]