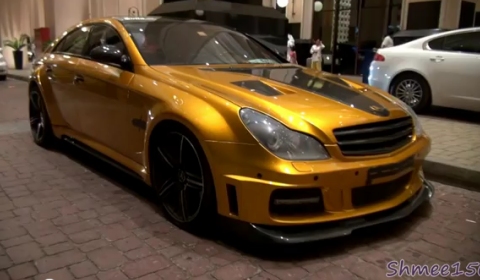 In Dubai, YouTube member and friend Shmee150 films this probably unique car, customised Golden Brabus CLS Rocket.
Not only is it originally based on the Mercedes CLS and tuned by Brabus into their "Rocket" configuration, but this car has had additional tuning beyond that to create a car that is most likely completely unique in appearance!
The CLS Rocket is powered by V12 twin-turbo engine producing 720hp at 5,100rpm and 1,320Nm at 2,100rpm. The torque is electronically limited to 1,100Nm at 2,100rpm. A sprint from zero to 100km/h is done four seconds, 0-200 in 10.5 seconds and 0-300 in 19.5 seconds.