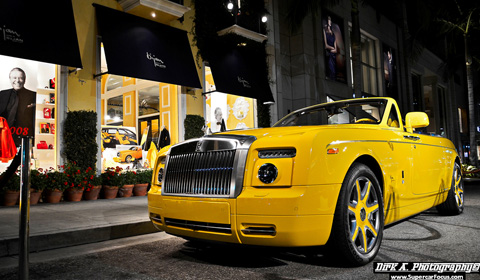 Since 1976 when Bijan Pakzad opened his exclusive boutique on Rodeo Drive, he was Beverly Hill's tastemaker. The Iranian-American designer was a clothier to presidents, celebrities and sheikh's.
Bijan is in the automotive world perhaps best known for his customized yellow Bugatti Veyron, which he parked in front of his boutique. And through it all, he always maintained a passion for Rolls-Royces.
One year ago it was announced that Bijan would team up with Rolls-Royce with the intention to deliver a limited series of unique Rolls-Royce Phantoms carrying Bijan's design language. Sadly Bijan was not able to see these cars as he passed away earlier this year.
But his legacy continues as the House of Bijan unveiled the limited edition Rolls-Royce Phantom Drophead Coupé which incorporates Bijan's love and affinity towards the color yellow. The Drophead Coupé is valued between $ 850,000 and $ 1.6 million. Bijan executives say they hope to make a dozen.
The car has features such as a Bijan watch surrounded by white diamonds embedded in the wood veneer dashboard and a set of crystal glasses in a picnic set in the trunk.
Our friend Dirk was at the Bijan store on Beverly Hills' Rodeo Drive to snap some pictures of the exclusive car and event.
[Via Dirk A. Photography]