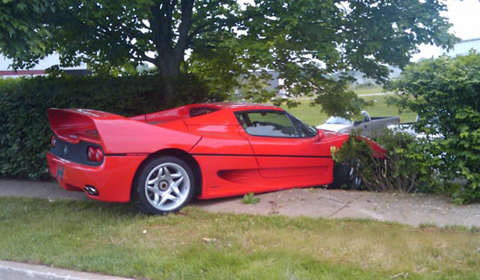 You might remember our article back in February this year about an unfortunate accident involving an F50 and an FBI officer and the ongoing litigation. On Tuesday 27th September, a judge granted immunity from prosecution for the government.
The story starts back in Rosemont, Pennsylvania in September 2003 when the Ferrari F50 was stolen from its original owner. At this point, Motors Insurance paid out on the insurance policy and nothing was heard of until five years later. In August 2008, The FBI found the car in Kentucky and stored it during the investigation in Lexington, Kentucky.
This leads us to May 2009, almost a year later, when FBI officer Fredrick C. Kingston crashed the stolen and recovered F50 into a hedge causing what Motors Insurance claim was approximately $ 750,000 worth of damage. Since then, Motors Insurance and the US Government have been locked in a lawsuit over the availability of evidence about the incident.
Among the central items of evidence was an email containing the statement of the passenger, Assistant U.S. Attorney J. Hamilton Thompson, which stated he was invited for a "short ride" before the Ferrari was to be moved from an impound garage.
Judge Avern Cohn used federal law which grants immunity from prosecution if property is being held by law enforcement. He is quoted as stating "The government's purpose in holding the vehicle was not to create a status of either consent or punitive coercion. … Rather, the object was to control and preserve relevant evidence."