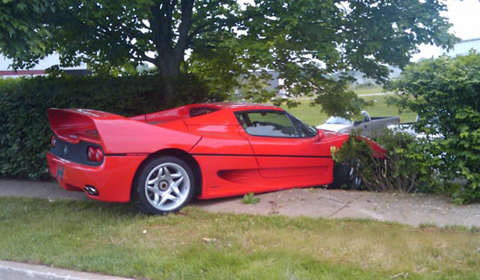 The Ferrari F50 is a rare and expensive car. That is what most people already knew and the FBI now knows. This story begins in Rosemont, Pennsylvania in September 2003.
A Ferrari F50 was stolen from a Ferrari dealership. After the theft the dealer submitted a claim to the insurance company which insured the Ferrari F50. The insurance company paid the claim and assumed ownership of the F50.
But five years later, in August 2008, the FBI found the car in Kentucky and stored it during the investigation in Lexington. Since the car was located in another American state, the Ferrari ended up in the hands of the FBI. A few month later, in May 2009 everything went wrong. Surprisingly a FBI agent took the Ferrari for a drive. The FBI agent lost control of the F50 and crashed into a tree.
The insurance company sued the FBI and the Justice Department, and claimed $ 750,000. But the agencies rejected the claim last March and argued the crash happened while the Ferrari was being detained by the FBI. After a second rejection, the insurance company requested documents relating to the use, custody, possession, storage and transportation of the Ferrari. And once again, their request was rejected.
So now the insurance company is suing the FBI and U.S. Department of Justice under the Freedom of Information Act since the government organizations won't produce records that could shed light on the crash. The Freedom of Information Act is a federal law that allows for the full or partial disclosure of previously unreleased information and documents controlled by the United States Government.
This is a very interesting case and we wonder what the outcome will be.
[Via emgCarTech]