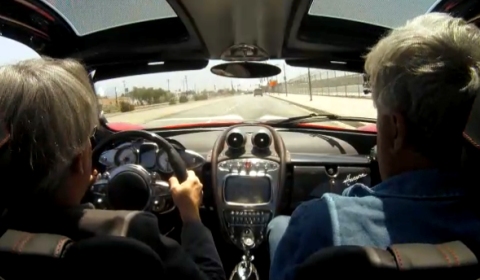 Jay Leno got a special visit by the company founder of Pagani – Horacio Pagani – who took along the company's new supercar, the Pagani Huayra and the recordwinning Pagani Zonda R. Jay Leno is one of the first and luckiest journalist to test drive the Pagani Huayra alongside Mr. Pagani himself.
The Huayra is powered by a Mercedes 6.0 liter V12 twin turbo engine producing 700hp and 1,000Nm of torque. Power is sent to the rear wheels via a seven-speed sequential transmission that was also developed by Mercedes' performance division, AMG. The supercar can accelerate from 0 to 100km/h in just 3.3 seconds and keep going up to a top speed of 370km/h.
Check the video and learn everything you did not know yet about the Pagani Huayra. This video is true lesson telling you everything! Our tip? Just watch it.
The Pagani Zonda R also visited Jay Leno's Garage…
Update: At this moment the embed codes do not seem to be working, so please click here and here for the videos.