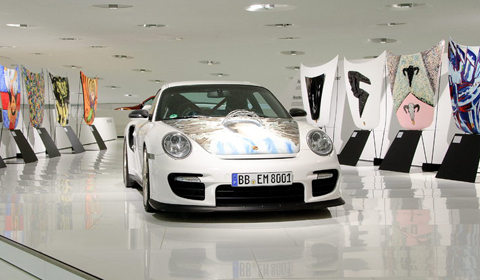 BMW has its Art Car Project, Mercedes-Benz has its sculptures and now Porsche presents their take on art. A new exhibition named the Colección Goméz, has opened in the Porsche Museum in Stuttgart and features paintings from South American artists.
The project is the brainchild of Argentinian Jorge Gómez. As both art lover and big fan of the Porsche brand, he came up with the idea of simply combining his two biggest passions. He invited 19 artists from Uruguay and Argentina, including for example Pablo Atchugarry, Rogelio Polesello and Jorge Ferreyra Basso, to work on the skin of a racing car.
Instead of using conventional art materials, the artist were invited to put a creative twist on the bonnet of a Porsche 911 GT2. They used a variety of materials, such as acrylic, enamel, mosaic tiles and a compound more usually associated with Porsche, burned rubber.
But from time to time the works of art still fulfill their original purpose as car bonnets, because Gómez occasionally insists on fitting them on his own Porsche 911 GT2 and taking the artworks for a spin. As the American author Richard Bach once wrote:
But the speed was power, and the speed was joy, and the speed was pure beauty.
Colección Goméz is open from 20 September 2011 to 8 January 2012, between 9am and 6pm from Tuesday to Sunday. For more details visit the homepage of the Porsche Museum.