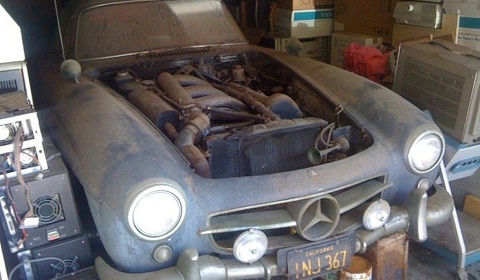 A restoration garage owner has managed to secure one of the last great 'barn finds' in the shape of an aluminum-alloy bodied Mercedes 300 SL. The car was recovered from a former computer industry executive's garage in Santa Monica, California, where it had rested since the early 1970's.
Rudi Koniczek of British Columbia-based shop, Rudi and Company located the car and its owner after years of tracing rumours about its existence. As the pictures show, it had been buried under a pile of retired computers, forgotten about since a transmission failure in the early 70's.
Koniczec and three employees were said to have spent three ten hour days clearing enough space to free the car from its silicon tomb. It's original owner, Tom Wellmer, had been given the car in 1955 as a graduation present. It got used up until a transmission failure when Wellmer set upon the project of fixing the car. Wellmer never got round to finishing it and various parts sat on the garage shelves gathering dust.
The car already has a buyer. It will undergo a restoration at Rudi and Company, specialist 300 SL restorers before being handed over.
Mercedes produced 29 of the alloy bodied 300 SL's. 28 had been accounted for until this example was found in California. The alloy bodied 300 SL was something of a special edition for Mercedes who offered the car with the full aluminium-alloy body, plexiglas windows, revised and lowered suspension, a high-lift camshaft, new wheels and bigger brakes.
[Via Hemmings]