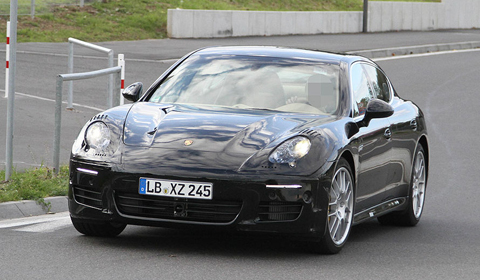 Porsche is working on a facelift for the Panamera, which should enter the market somewhere within the next year. The updated Panamera has been caught testing near the famous Nürburgring.
The spyshots shows a Porsche Panamera with minor camouflage, which suggests that the facelift will be minor as well. The redesign will be in line with new Porsche 911 introduced at the Frankfurt Motor Show last week. The redesign will include updated headlamps, new LED daytime running lights and a lower fascia. The backside, the most controversial part of the design, seems untouched.
There will also be a new LWB (Long Wheel Base) model especially for the Chinese market. Engines will receive some minor revisions, most likely resulting in a little bit more power and a little bit less emissions.
The four-seat luxury car was introduced in 2009 and became a big hit for the German carmaker. Together with Cayenne, the Panamera accounts for over 70 percent of total Porsche sales worldwide.