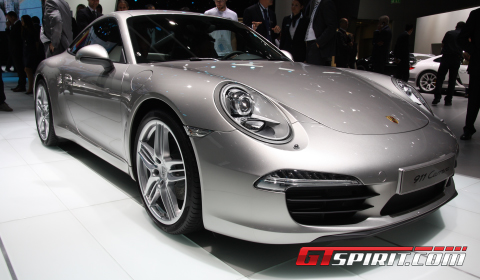 Following the initial release of photos and information, Porsche has now officially and publically unveiled the new 911 Carrera and Carrera S at this year's Frankfurt Motor Show. The Porsche 991 is the seventh generation of the iconic sports car.
The new 2012 Porsche 991 Carrera is powered by a naturally aspirated, direct injection 3.4 liter flat six which delivers 350 horsepower and 390Nm of torque. Power is transferred to the rear wheels via a seven-speed manual transmission or the optional seven-speed Porsche Doppelkupplung (PDK).
The top speed of the 991 Carrera is 289km/h with the manual transmission and 287km/h with the PDK. But the PDK offers a faster acceleration, the sprint from 0 – 100km/h is done in 4.6 seconds or 4.4 sec with the optional Sport Chrono package. Without the PDK, the 991 Carrera accelerates from standstill to 100km/h in 4.8 sec.
The new 991 Carrera is longer, sleeker, and lower than prior 911s. Compared to its predecessor, the wheelbase of the new 991 has increased by 100mm, with the overall length up by 70mm. Thanks to the use of lightweight materials the weight has been reduced by 45kg.
The launch of the new 911 models gets under way on 3 December 2011, but order can already be taken. Prices in Germany are € 88,038 for the 911 Carrera, including 19 per cent VAT and market-specific equipment.