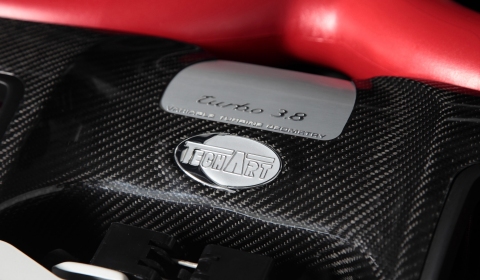 With its power of 700hp and 900Nm torque the TechArt GTStreet RS based on the Porsche 911 GT2 RS was the most powerful sports car ever made by the German Tuner. At the 2011 Frankfurt Motor Show they introduced an one-off for a Chinese client. But now they present a power kit with more then 700hp for the standard 997 Turbo.
The TA 097/T3 for the Porsche 911 Turbo offers a plus of 200hp and 230Nm of torque compared to the series model. The 3.8 liter boxer engine provides at least 700hp and a maximum torque of 880Nm. With 2.8 seconds for the classic sprint from 0 to 100 km/h the super sports car undercuts the time of the previous power kit TA 097/T2 by a tenth. The 200km/h barrier is broken in 9.0 seconds. The forward propulsion stops not until impressive 352km/h.
The engine conversion includes the installation of the TechArt sport air filter, manifolds, the turbochargers VTG, the high performance intercoolers as well as the engine styling package in carbon fiber. All modifications are perfectly attuned to each other via the reprogrammed engine management.