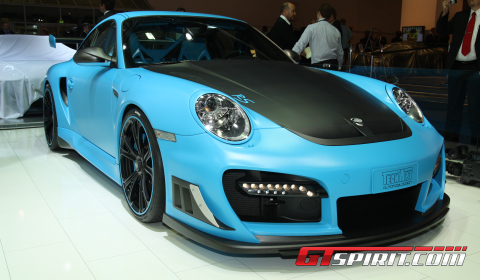 German tuner TechArt had officially unveiled the TechArt GTStreet RS based on Porsche 911 GT2 RS at their stand on the Frankfurt Motor Show.
The already powerful and exclusive Porsche 911 GT2 RS received a makeover consisting out of a performance package, new wheels, interior upgrades and a body kit. This body kit is designed to create more downforce and enhance the airflow.
The total output of the GTStreet RS is a massive 720 horsepower, the maximum torque increased to 900Nm. Thanks to these tweaks, the TechArt GTStreet RS Based on Porsche 911 GT2 RS is the most powerful car which has ever left the workshop in Leonberg near Stuttgart.
The TechArt GTStreet RS Based on Porsche 911 GT2 RS accelerates from standstill to 100km/h in 3.3 seconds. After 9.5 seconds the needle passes the 200km/h mark. The maximum speed is 352km/h.
The ultimate sports car is an one-off for a Chinese customer.