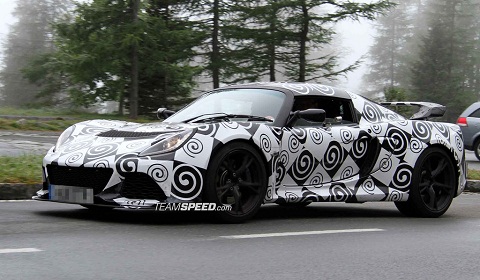 If we're to believe the hype, Lotus are to release a total of six new cars between 2013 and 2015. On top of these completely new cars, spyshots emerged yesterday of what looks like a test mule for a 2012 Exige. The car is currently expected to make its debut at the 2012 Geneva Motor Show and on general sale shortly afterwards.
The pictures show a highly camouflaged vehicle based on the Elise platform. The rear appears to have been completely re-designed and the front shares more than a passing resemblance to the Evora. The rear appears to be longer, the track wider and the roofline lower giving it a more attractive, sportier look than the Elise it is presumably based upon.
It is likely that once this car is introduced, Lotus will issue a refresh of its complete line-up before the onslaught of new cars starting in 2013. The Exige hasn't been sold to European customers since late 2010, having been a victim to stricter emissions regulation.
Back when it was produced, the Evora used a Toyota-sourced 1.8 liter 16-valve four-cylinder engine. Now that Lotus and Toyota have mostly parted ways, sources suggest that the new Exige could use the 3.5 liter V6 from the Evora. That would mean 280hp in a lightweight package. However, not much is know so it might well be that Lotus opt for the 1.8 liter four-cylinder Lotus engine in the current Elise.
Whatever happens expect the Exige to be one of the more desirable vehicles to come out of Hethel. Expect lightweight design with a focus on devastating performance.
For more pictures visit Teamspeed.