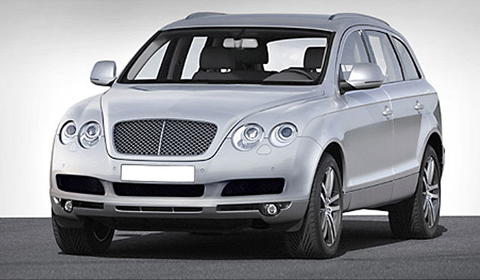 More details about the upcoming Bentley SUV emerge. Earlier it was confirmed that the British manufacturer of luxury cars was planning a SUV and now it appears this car will be ready by 2014 for a price of around £150,000.
Bentley CEO Wolfgang Dürheimer is working together with head of design Dirk van Braeckel and head of engineering Uli Eichhorn to launch the high-end SUV by 2014.
Dürheimer, who previously headed Porsche R&D, regards the launch of the Porsche Cayenne as one of his proudest achievements and he is convinced the SUV market is here to stay. He sees potential for high-end SUVs in the most important markets for the British marque: China, Europe, and the United States, where luxury SUVs are much in demand.
The SUV is will have quintessential Bentley styling like a luxury wood and leather interior which would place it above the standard set by the Range Rover. The main competitor will be the Lagonda SUV which will also be introduced somewhere in 2014.
The Bentley SUV is still in the research and development stage, the SUV's new platform is still being decided. It is quite possible the SUV will be built on parent company's Volkswagen MLB modular chassis, which will also underpin the next generation Audi Q7, Porsche Cayenne and VW Touareg. While working for Porsche, Dürheimer was also involved in the development of the MLB chassis.
The Bentley CEO also stated that he is a strong supporter of Bentley adopting diesel. This suggests that a version of the Audi V12 TDi could be placed in the Bentley SUV. Durheimer reckons that 1,000Nm is the required torque figure for the stately and luxurious SUV. A petrol powered W12 could be offered as an alternative for the diesel engine, and a hybrid could be developed as well.
The Board of Management for the Volkswagen brand has still to decide whether or not the Bentley SUV will get its green light, but Dürheimer is confident the project will be a go.
[Via AutoCar]