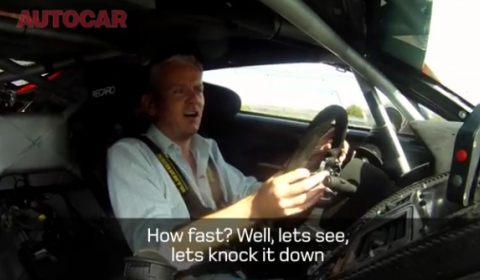 Jamie Corstorphine from Autocar was the lucky person to get his hands on the new Aston Martin V12 Zagato. He drove the endurance racer at the Aston Martin test track in Gaydon.
Introduced as a modern interpretation of the famous Aston Martin and Zagato collaboration in the 50th anniversary year of the iconic DB4GT Zagato, the V12 Zagato was shown for the first time at Villa D'Este 2011 sparking great interest of visitors and customers. All visitors to the Concorso D'Eleganza were invited to cast their vote for the best concept and prototype. Among ten entries from around the world, the Aston Martin V12 Zagato was voted the best in class.
Two examples of the V12 Zagato endurance race car competed in this year's Nurburgring 24 hour race, where one was driven by the company's CEO, Dr. Ulrich Bez. The V12 Zagato is powered by a 6.0 liter V12 engine producing 510bhp and 570Nm of torque. Featuring a new handcrafted aluminium body, the V12 Zagato has front wings made from seven separate pieces of aluminium, combined and then hand finished to give one flowing form.