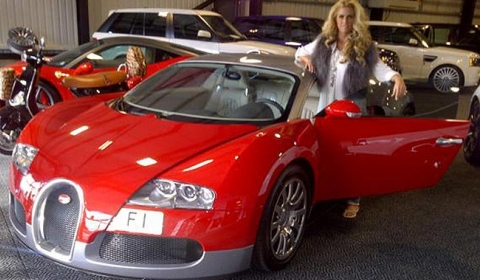 Does the name Katie Price ring a bell? No? Ever heard of former glamour model Jordan? Both are the same topless glamour woman who is planning a pink paint job on a Bugatti Veyron.
Katie was photographed next to the hypercar at Project Kahn in Bradford in the UK. According to The Sun, she wants the brand-new bright red 253mph motor to be the same colour as the rest of her dazzling vehicle fleet.
Afzal's team is of course capable to fulfill the task of painting the £ 1.0 million Bugatti Veyron supercar in a pink livery, but in fact the Veyron and F1 number plate in the picture belong to Afzal Kahn himself. The owner of Project Kahn owns two Veyrons and ordered a third one. So we wonder if she really bought the hypercar and is planning to put it next to her pink Range Rover with Kahn body kit. Time will tell.