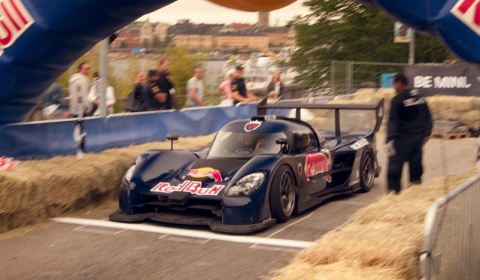 Several reports with respect to the Rebellion R1k Red Bull edition have been published onto our front page over the past few months covering the development of Jon Olsson's latest project based on his Ultima GTR. Jon has released to his fans that the ultimate sports car has finally reached the streets. It showed its face at the Red Bull Lådbilsrally in Sweden.
The professional athlete considers changing the engine because it still doesn't run as smooth as expected. As far as we know he now has a turbocharged BMW V8 outfitted to this car. Costs of the car were about € 220,00 according to his blog. He is suggesting a production run of a small number of cars.
Rebellion Super cars? After the first video I put out I have recieved a bunch of request from people who wants to buy the car or have another one built. So if we can prove this concept to work on a daily bases I cant help to think about the idea of putting this into production… Only a mad man is crazy enough to consider the idea of his own super car company, but with orders requests before its finished I dont see a reason to not consider it. The sky is the limit!
But first things first, test this around Europe, eat a few Ferraris for lunch and make sure it works the way it should, then we can look at crazy ideas like above.
Oh and Jon cant wait to crush this thing up mountain roads this winter, all he has to do is create a very small custom ski box!
[Credits to Oskar Bakke for the pictures]