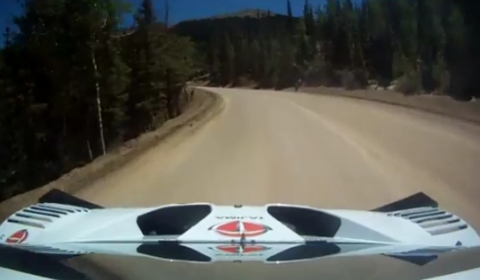 This was the only thing missing! The record breaking run of Monster Tajiama at the 2011 Pikes Peak International Hill Climb on video and uploaded to YouTube. As main sponser of Tajima's 2011 Suzuki SX4 Hill Climb Special mini-camera specialists GoPro attached numerous GoPro HD cameras on the car. The clip below comes from the camera mounted on top of the Suzuki.
Tajima was ten seconds faster than his old record of 10:01.408. He and his Suzuki SX4 Hill Climb Special managed a new time of 9:51.278. He is the first person to break the 10 minute barrier!
The race is a hillclimb run on a 12.42 mile course with 156 turns that begins at 9,390 feet and finishes at the 14,110 foot summit of America's Mountain; Pikes Peak! As the drivers climb toward the summit, the thin air slows reflexes and saps muscle strength. The thin air also robs engines of 30% of their power at the summit.