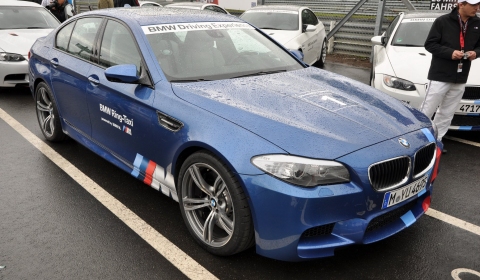 The guys over at BMWblog.com have released the first pictures of the brand new BMW F10M M5 Ring Taxi parked at the M Festival at the Nurburgring. The pictures show a Monte Carlo Blue 2012 BMW M5 with numerous decals, which belong to the Ring Taxi.
The new F10 BMW M5 will carry on the historcial legacy, with or without Sabine Schmitz, and will be the follow-up of the current stand-in, a BMW E92 M3. According to BMW officials, the brand new M5 Ring Taxi will make its first rounds at the Green Hell in 2012.
The new M5 is powered by a high-revving 4.4 liter V8 engine with M TwinPower Turbo package along with race-bred chassis technology that includes, for the first time, an Active M differential and electronic damping control. It can accelerate from 0-100km/h in just 4.4 seconds, and 0-200km/h in only 13 seconds. The voluntarily limited top speed is 250km/h.