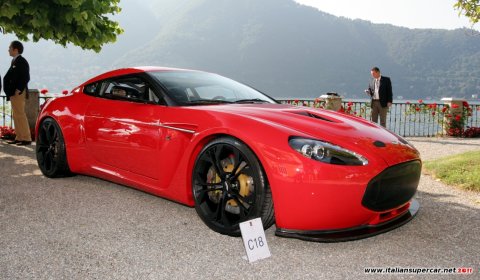 Following the release of the Aston Martin V12 Zagato in Villa d'Este 2011 two weeks ago, we visited the Zagato headquarters near Milano, Italy this week.
During our factory visit we discussed the great success and attention of the modern interpretation of the famous Aston Martin and Zagato collaboration with the staff of the Zagato Press Office. They said:
Both Aston Martin and Zagato have received many positive responses and reactions with respect to the release of the V12 Zagato. We are really happy with the end result and the fact that the car won the Concorso d'Eleganza Design Award for Concept Cars and Prototypes.
The next step with respect to the existing racer is taking part in the 24 Hours of Nurburgring on June 25 and 26. The event follows the 53rd ADAC ACAS H&R-Cup VLN race held last weekend.
The exact plans for a road-going version are being discussed. Both brands confirm that a release of a street-legal version of the V12 Zagato may happen sooner or later. Ulrich Bez, CEO Aston Martin, believes that the Aston Martin V12 Zagato warrants a limited production run:
Based on the reactions of our customers to this race car, we hope to offer a road-homologated V12 Zagato in a small, limited number as soon as possible.
The Zagato Press office confirmed this statement:
Officially nothing has been released by both companies, but we share the intension to create a limited number of road-legal vehicles based on the V12 Vantage. Exact production figures, specifications, price and availability are unknown at this stage, but stay tuned for more in the upcoming months.
We share the positive reactions with respect to the collaboration and congratulated Zagato with their achievements. We think that creating a road-homologated version would be a logical step for all parties involved and we cannot wait to see the superb-looking vehicle on roads around the world.