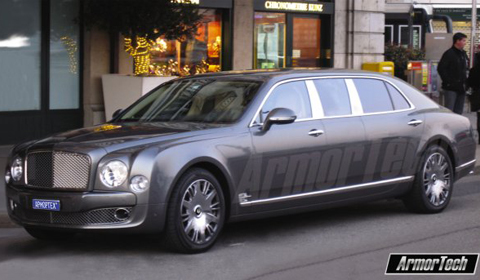 Russian custom car builders ArmorTech is offering a stretched version of the Bentley Mulsanne. The wheelbase of the British luxury brand's flagship can be extend from just a half-meter (500mm / 20 inches) to 1150mm (45 inches), resulting in a total length of 6,73 meters (265 inches). The roof on the Mulsanne could be raised as well, by up to 100mm (3.9 inches)
The Russians also modify the brakes, chassis and suspensions to cope with the extensions. Multimedia systems and a new interior design with a hand-crafted partition wall could be installed as well.
To ensure the safety of the passengers the car will be delivered in the ballistic protection level VR6/VR7. This means protection against limited explosive devices and military rifles.
Armortech presented earlier an unique armored stretched Rolls-Royce Phantom and the even more remarkable two-door body conversion for the BMW X6.