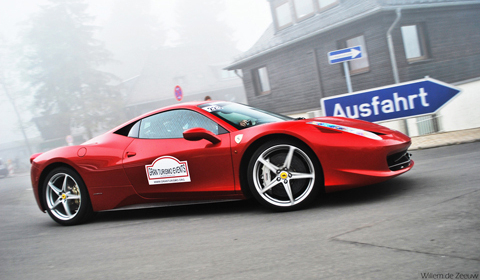 The Nürburgring was nicknamed The Green Hell by former F1 champion Jackie Stewart. Fog and low cloud ceilings, especially in the winter, can make driving hazardous.
Many drivers consider the Nordschleife with a length of 20,8km as one of the toughest, most dangerous and most demanding purpose-built racing circuit in the world. Gran Turismo events visited the race track for a total of three days, after visting Zandvoort in the Netherlands.
This amazing shot of a Ferrari 458 Italia in the fog was made by Willem de Zeeuw. For a high resolution version click here. More great pictures are available on his photostream at Flickr.