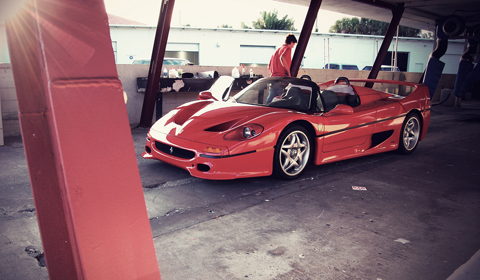 The F50 is probably the least coveted Ferrari from the 'F' car range with stiff competition from the evocative F60 or Enzo as we now know it and the raw F40. However, that's not to say that it doesn't deserve to be up there in the hypercar stratosphere with the rest of them. Here, as our photo of the day, we have the F50 being detailed at Ferrari Fort Lauderdale, California.
The F50 never set any records or performed in any race series, it even lost out in performance terms to it's younger sibling, the F40. However, dynamically, the car was head and shoulders above anything else. A lot of the stigma around the car also came from rumours that Ferrari themselves never let anyone drive it. Press cars were not available and Ferrari actively prevented customers from offering magazines opportunities to test production cars.
Whatever the truth, the F50 remains a stunning, and rare hypercar. Very few people get to see them in the flesh, even fewer get to own them. That's why it is the subject of our photo of the day.
For more photos of the car, head over to Teamspeed, thanks to ShutterSpeed.