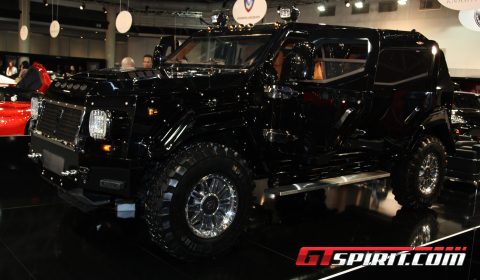 Conquest Vehicles from Canada has introduced their bespoke luxury armoured Knight XV in Europe at Top Marques Monaco 2011.
Only limited to a hunderd cars, Conquest Vehicles states that it defines the future of the ultra-luxurious, handcrafted fully armoured SUV. Powered by a GM 6.8 liter V10 engine with E85 Ethanol Conversion System, it is the biggest armoured SUV in the world inspired by military vehicle designs.
A total of two have been bought and six sold over the past few years. The massive SUV is the biggest vehicle at the event in Monte-Carlo and received a large amount of interest from the visitors.
More information can be found right here.