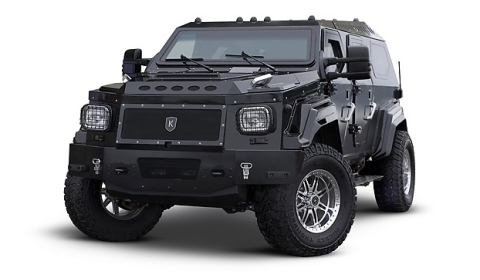 Ever heard of a company named Conquest vehicles? No? Watch this! The Knight XV is the latest addition to the world of ridiculous expensive SUVs having the ability of transporting you through every possible hazardous situation.
Only limited to a hunderd cars, Conquest Vehicles states that it defines the future of the ultra-luxurious, handcrafted fully armoured SUV. Powered by a Ford 6.8 liter V10 engine with E-85 ethanol conversion, it is the biggest armoured SUV in the world inspired by military vehicle designs.
The Knight XV is manufactured as an armoured vehicle from the ground up and takes approximately three months and 1,500 hours to hand build. The basis is a specially modified F550 Ford chassis platform. The 400hp 'truck' is equipped with a 151 liter petrol tank, five-speed automatic transmission and 4WD. The tyres are LT40 x 13.50 20 inch Mickey Thompson Baja Radial ATZ with ballistic run flats.
Some figures! The size is massive with a length of 6096mm (240 inch), width of2337mm (92 inch), height of 2540mm (100 inch) and a ground clearance of about 355mm (14 inch). The wheelbase is a whopping 3576mm (141 inch) and the weight is even more estonishing at 5,454kg (12,000lbs).
The Knight XV's armouring package includes transparent armour (ballistic glass), opaque armour like high strength steel, ballistic aluminium, composites, aramid and ceramics, a firewall between engine and passenger compartment and door protection.
The accessory list includes even more options, such as Wilton Wool luxury carpeting, personal rear seat side mounted laptop stations, Knight XV 20 inch polished rims, tandem tinted moon roof panels, keyless entry system and even FLIR night vision cameras mounted front and rear. You can watch the footage on individual screens.
Prices start at $ 500,000. Are you ready to be knighted? Then click here!

[Via Autoblog.nl]