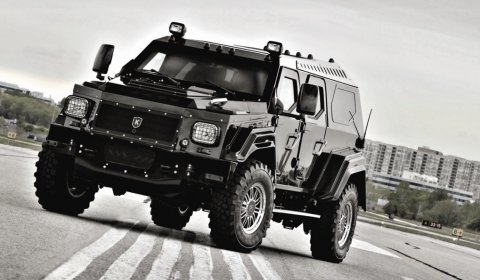 For the first time ever on European soil, Conquest Vehicles from Canada will introduce its bespoke luxury armoured Knight XV at Top Marques Monaco 2011.
Only limited to a hunderd cars, Conquest Vehicles states that it defines the future of the ultra-luxurious, handcrafted fully armoured SUV. Powered by a GM 6.8 liter V10 engine with E85 Ethanol Conversion System, it is the biggest armoured SUV in the world inspired by military vehicle designs. Conquest supplied us with some new information on the vehicle.
The Knight XV is manufactured as an armoured vehicle from the ground up and takes approximately three months and 4,000 hours to hand build. The basis is a specially modified Freightliner chassis platform. The 325hp 'truck' is equipped with a 238 liter petrol tank, five-speed automatic transmission and 4WD. The tyres are Michelin XZY 385/65 Rx22.5 wide base fitted to 22.5 inch polished custom rims, forged from 6061 Aluminum.
The base price for the vehicle weighing 10,432kg is $ 489,000.
We will have our first experience with the massive vehicle at Top Marques Monaco in April. So stay tuned for more!